Changelogs
Fixed shift + click inventory, skills.
Added quick cast in customkeys functionality. It will left click on original cursor position after. Delay can be modified in settings.ini DelayQuickCast
add mouse blocking when script is clicking skills for left click.
improved info about new chat-free system
New old Chat-detecting system (from aht v2.1b) based on colors. Works in any patch. For <1.30 patch if chat is interrupted use older version of AHT
Fix chat-free for 1.30 patch in new chat-detecting system
added 50 ms delay after skill click for customkeys (can be modified in settings.ini) for left click
removed mouse blocking when script is clicking skills for left click
removed unnecessary mouse move for non-uac users
Fixed WarCraft III 1.29.2 Support for chat.
Added WarCraft III 1.29.2 Support.
Fix chat detection for 1.2.9 patch
Add customization of skill position through ini file
Add link to the guide for customization skill positions
Warning if you have new patch you must check "New WarCraft UI (1.29+)" for the chat-suspend work and for proper work of all coordinate-based hotkeys (skill hotkeys, autocast, scoreboard, etc).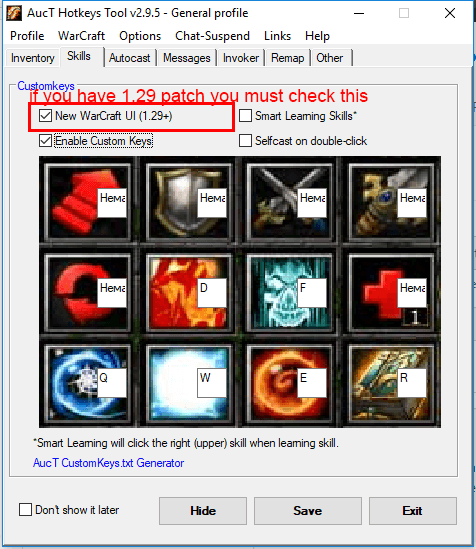 Added WarCraft III 1.29 Support.
Added WarCraft III 1.28.5 Support.
Added WarCraft III 1.28.4 Support.
Added WarCraft III 1.28.1 Support.
Added WarCraft III 1.27.1 Support.
Added WarCraft III 1.27 Support.
Fixed links
Added Dota2 Reborn Support.
Invokers with customkeys now can use add spell by putting their hotkeys in bottom righter area of invoker tab. (other functions will work only if the skill keys are the same as original Wall(G), EMP(C), etc.
Customkeys will work faster if you choose only Enable Customkeys
Deleted l ProfileName command. To load profile use /l ProfileName
double click hotkey will choose that hotkey see image below
added tab links
fixed all urls
fixed following hotkeys \ ' , . /
fixed url of site
fixed double click hotkeys for autocast
added selfcast skills on double click
added hotstring -c = -clear
will work in dota2
added double click hotkeys support for autocast (test)
added double click hotkeys support for invoker (test)
removed hotstring btw
added hotstrings (l, reload, suspend, exit) without "/" which would do the same as with. For example u can type exit or /exit it will exit tool.
fixed issue with "other=>run program" feature
added "Run WarCraft 3" in the tray menu
fixed issue with "\" hotkey
removed menu hotkeys for proper setting wc3 hotkeys
packed images into the program
fixed some problems with turning off/on mouse capture
removed note "Im here"
customkeys will work with uac-on
customkeys will work when learn (for full-screen users)
hotstrings and commands improvements
Profile loading:
loading with /l will not tab u to desktop - instead it will play sound and type whether it loaded successfully or not (after 1 sec)
loading with /l will work only in wc3
added in traymenu item reload
added hotkey for window mouse capture (in Others tab)
added command /reload - reloads script
added command /exit - exits script
added hotstrings:
btw - by the way
-u - -unlock
-wa - -water
-we - -weather
-re - -repick
-ra - -random
added comandlist (Help->Commands)
fixed hotkey "pause script"
Small GUI fixes and improvements
new chat-suspend system
full support window mode
added loading profiles system (to load profile in the game u need to type /l Profile
profile - ur profile name)
change default hotkey Others=>Get Hero to blank (was F1)
fixed bug on a start for non-english keyboard layout
fixed small bug with gui messages and remap keys
improved scoreboard coordinates
shift ordering for uac-on users removed but for unac-off - users will not bug
fixed not working 1 skill (if u use customkeys)
fixed a little messages (that send space before comand)
fixed hotkey scoreboard for non-english keyb layout
more window mode support
fix multiline message
decrease tooltip time
fix autoupdate
returned to old chat-suspending (sry for window mode users)
added chat-suspend menu
fix issue with adding as change the hotkey
Added style option
Added style chooser (menu options->color style)
Default hotkeys:
Added fefault hotkey "L" for -il
Scroll Indicator by default is off
added notification in tray
added "Open GL on" to open wc3 in opengl
added "Improve fps" which "improves" FPS HKEY_CURRENT_USER\Software\Blizzard Entertainment\Warcraft III\Video reg_dword lockfb "0"
Reworked Messages module*
Reworked KeyRemap module
Added support for win7 and uac on
New chat-suspend mechanism (maded by yayuhhz):
Chat-Suspend and lobby-suspend is on for all user
Removed that checkboxes
Works in window mode!!!
Improved window mode (maded by yayuhhz):
To clip cursor you will need to only set in options menu or in tray menu Mouse Capture (if it's not on already) instead of hotkey-press
Now works only for wc3 window
Replaced options from "Other" tab to Otions menu
Removed some options
Replaced fast start program to the other tab to make tool more semantic
Fixed some small bugz
added new hotkey reload if smth wrong (however I think it temporarily)
Changed default hotkey for Autojoin Garena from !G to !J
long keys (caps lock, mousewheel) no longer will be produced
removed caps lock always off and numlock always on
removed script settings of making hotkey faster
fixed (i hope so) not proper function of share control
add buttons instead of hotkey input for 1st remap key
added 4 more remap keys available
added function of run program/file/etc (in remap tab)
added hotkeys to hide/reload/exit (alt+h/r/x)
added some wc3 functions in top menu
added some delay (100ms) to sending multiple messages

fixed bug with "2" key
added top menu panel
added profile system
added about window
inventory input is customized
added simple update checker
reworked sho-toggle mechanism
shop-toggle is always on

fixed bugz with inteface
added some more remap keys
remap keys in new tab
remaded vk converter
improved roshan notification
improved garena autojoiner

added interface
added roshan notification

fixed issue with shop independance
added healthbar
added icon to AHT.exe
AHT script can load any config.ini**

Little code change
Fixed some stuff

Fixed issue which can be if ur ShopIndependence=on
Added conversion to virtualkeys (function author - InFlames)
added sound when joining room
reduce autodetect' timer period to 1.1 sec and taking color from 1 point
added some more long messages
Fixed Shift+Item

Fixed issue with not properly chatting (for users with scrollindicator=off; autodetect="on")
Fixed Shift+Item

Added option to autodetect (not compatible with window mode)
Replace sendplay to send mode for more reliable function the share control and the whole script on old machines
removed wait variable (for share control)
Improved garena autojoiner (from now you don't need to deactivate it when you join the room and increased time period to 5.010s)
added option ShopIndependence. If it's on - the inventory will not work when you click on the shops => you can have same hotkeys on inventory and items in the shop (so hard to explain....)

Fixed issue with shift+item
Added long messages, which allow you to send multiple messages with 1 hotkey.
Added Garena Autojoiner

Fixed issue with not properly chatting (for users with scrollindicator=off; autodetect="on")
Fixed Shift+Item

Added 5 slots for fast tp
Added commands to invoker module (qqq, www, eee, il)
Fixed Quick messages (that doesnt send messages started with !, +, etc)
Some code change

Added module RemapKeys
Added FastTp (double click 6th slot) (LWin)
Some minor code change

Fixed issue with not placing back mouse after showing Scoreboard

Full suport for window-mode users by yayuhhz
Added invoker module for full version visit AucT Hotkeys Tools (AHT) Official Website
Added some switchers (Scroll indicator, etc)

New Window mouse capturer by yayuhhz

Added function of mouse trapping (dunno if works)
Added Quick Message module
Added hotkey auto all (for most heroes to autocast)
Changed time of sharing control to trigger properly on slower machines

Added Scroll Lock indicator of the script
Fixed Alt-P - pause game for non-english keyboard layout
Fixed ignore - so it will suspend script for proper typing the name

Faster Share Control
End will suspend (pause/unpause) all script
Removed option to send original key with Scoreboard
Some small config.ini edit

Added a small update, which allows you to shift+hotkey properly (i.e sk' ult - shift+dagger)

Left-Clicker
Chat suspending
Disable Key option
Post ignore (/squelch)
Get Hero (L Windows)
Added Web-Site AucT Hotkeys Tools (AHT) Official Website

NOTE: Windows only!